University of Maryland School of Languages, Literatures, and Cultures Home
Welcome to the School of Languages, Literatures, and Cultures in the College of Arts and Humanities at the University of Maryland, College Park.
The School is a transdiciplinary teaching and research unit. Our students, faculty, and staff investigate and engage with the linguistic, cultural, cinematic, and literary worlds of speakers of Arabic, Chinese, French, German, Hebrew, Italian, Japanese, Korean, Persian, Portuguese, Russian, and Spanish, as well as questions surrounding Second Language Acquisition and Cinema and Media Studies.
We invite you to learn more about our undergraduate and graduate degrees, our fields of study, and special programs like the Language House Living and Learning Program, the Persian Flagship and Arabic Flagship Programs, Project GO, and the Summer Language Institutes.
Explore Languages, Literatures, and Cultures at UMD
Undergraduate and Graduate Degrees
The School of Languages, Literatures, and Cultures offers numerous undergraduate and graduate degrees in 12 languages and 16 different fields.
---
Fields of Study
Faculty, students and staff investigate and engage with numerous languages and fields, often through interdisciplinary and transdisciplinary research and study.
---
Special Programs
SLLC offers several special language-learning programs, including the Arabic and Persian Language Flagships, the Summer Institute and the Language House Living and Learning Program.
---
Centers
The school is home to two centers, Roshan Center for Persian Studies, a landmark institution for the promotion of Persian language and culture, and the Center for East Asian Studies, which promotes the study and appreciation of East Asian cultures by offering a wide range of scholarly, artistic and community programs.
---
Research and Innovation
Research
Research in the School of Languages, Literatures, and Cultures is interdisciplinary and vibrant.
Research and Innovation
Roshan Institute for Persian Studies
The Roshan Institute for Persian Studies is the home of Persian studies teaching and research at the University of Maryland.
Learn more about Roshan Institute
Representation and Reception of French and Francophone Women Writers in the Media, (19th-21st centuries)
International two-day colloquium
French
Featuring a keynote address by Marie-Ève Thérenty and closing dialogue with Martine Delvaux, this two-day colloquium brings together scholars from around the world to expose, discuss, and debate the issues that inform the representation and reception of French and Francophone women writers in the media, from the nineteenth century to the present day, in light of their diverse social and political realities. Insofar as it implies the analysis of strategies of visibility, and even self-promotion, the study of representations of women writers in the media extends a significant current of contemporary literary analyses – that of posture and auctorial scenography – while also including perspectives on issues of gender and identity building, understood broadly, within the study of the reception and representations of women authors.

El país que ahora llamaban suyo
Latest book by Professor Saul Sosnowski
Spanish and Portuguese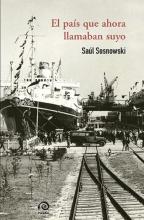 Es un doble placer: el leer la historia de cómo se enseña y cómo se aprende a ocupar el mundo, y el saber de pronto que esta historia es la traducción –quizás fiel, quizás no, y qué triple placer que no lo fuera– de una narración que se contó desde hace mucho, desde hace poco, en una lengua que es un reto a toda identidad y que es la identidad de la espera y la esperanza.
Walter Benjamin dijo de unas traducciones del griego al alemán hechas por Hölderlin que la armonía entre los dos lenguajes era tan profunda que las palabras tocaban sus significados así como el viento toca un arpa eólica. Saúl Sosnowski ha logrado en este texto la misma proeza: así como el viento toca las cuerdas, aquí el idish toca el español creando una armonía donde se reconoce al espíritu nómada, en la que se enfrenta sin miedo a la barbarie antisemita, donde se recogen los hilos más secretos de la humanidad, en la que se escucha la capacidad de nombrar y de ocupar el nombre, y también cómo se siembra, cómo se cultiva, cómo se derrota al tiempo. Y cómo se ama el amor.
El país que ahora llamaban suyo es la traducción perfecta: narración que sustituye a la original dejando intacta su autoridad fundacional; así como el nuevo país es propio sin borrar el menor detalle de la geografía de aquél que viene de ese otro lado. Doble placer ofrece este relato: reconocer lo invisible, olvidar lo inolvidable. Placer único: aquí, en este libro, con cada palabra el otro aparece en mí.
Jorge Aguilar Mora
Making Levantine Cuisine: Modern Foodways of the Eastern Mediterranean
From family staples to national dishes, Making Levantine Cuisine addresses the transnational histories and cultural nuances of the ingredients, recipes, and foodways that place the Levant onto an ever-shifting global culinary map.
School of Languages, Literatures, and Cultures
Melding the rural and the urban with the local, regional, and global, Levantine cuisine is a mélange of ingredients, recipes, and modes of consumption rooted in the Eastern Mediterranean. Making Levantine Cuisine provides much-needed scholarly attention to the region's culinary cultures while teasing apart the tangled histories and knotted migrations of food. Akin to the region itself, the culinary repertoires that comprise Levantine cuisine endure and transform—are unified but not uniform. This book delves into the production and circulation of sugar, olive oil, and pistachios; examines the social origins of kibbe, Adana kebab, shakshuka, falafel, and shawarma; and offers a sprinkling of family recipes along the way. The histories of these ingredients and dishes, now so emblematic of the Levant, reveal the processes that codified them as national foods, the faulty binaries of Arab or Jewish and traditional or modern, and the global nature of foodways. Making Levantine Cuisine draws from personal archives and public memory to illustrate the diverse past and persistent cultural unity of a politically divided region.
Read More about Making Levantine Cuisine: Modern Foodways of the Eastern Mediterranean