Russian Language Immersion
March 11, 2021 School of Languages, Literatures, and Cultures | Language House | Russian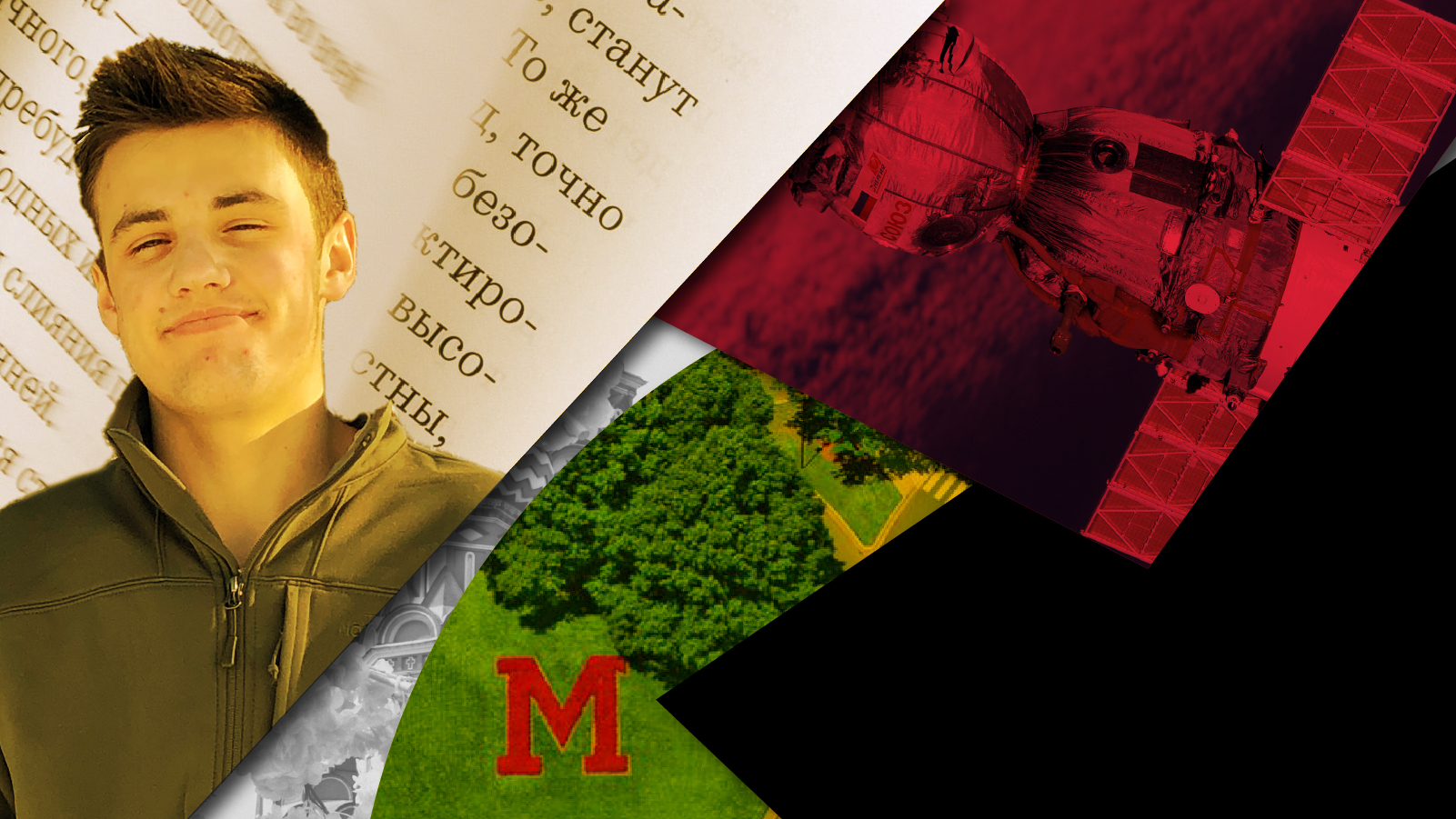 With hopes to work in the space sector, junior computer engineering major and Russian minor Garrett Sneed '22 is taking "every opportunity" he can find at UMD to improve his Russian.
By Jessica Weiss '05
On a recent Friday afternoon, Garrett Sneed gathered a number of ingredients and supplies from his kitchen, signed into Zoom and began to follow a live cooking lesson given by Anna Artazova, a mentor in the Russian cluster of the University of Maryland's School of Languages, Literatures, and Cultures (SLLC) Language House. An hour-and-a-half later, Sneed, a junior computer engineering major and Russian minor, was feasting on a warm plate of "Syrniki," or Russian cheese pancakes, and chatting in Russian with Artazova and the four other students in the cluster.
"They were really good," said Sneed '22 about the Syrniki, a famous breakfast food in Russia. "And most importantly I got to learn kitchen vocabulary and expand my speaking and listening skills."
Participating in the Russian cluster of the Language House is just one of the ways that Sneed is working to improve his Russian outside of the classroom this semester. A self-described "believer in continuous education," he also participates in the Language Partner Program and enjoys Soviet films.
"I take every opportunity I can to increase listening and speaking," Sneed said. "Even if it's just talking to my professor during office hours, I know that it's only by putting myself out there and getting uncomfortable that I'm going to improve."
Sneed, who hails from Colorado, first became interested in Russian his freshman year, after a friend in his dorm who was majoring in Russian began teaching him phrases. Not only did Sneed enjoy speaking the language, he also realized that learning Russian could enhance his understanding of cybersecurity, a longtime interest, given that Russian cybersecurity researchers are some of the best in the world.
Sneed added the Russian minor his sophomore year and has been working to improve his skills since. This semester, he is taking the five-credit RUSS202: "Intermediate Russian II" as well as RUSS336: "Soviet Cinema and Empire."
He is also participating in the Language House Immersion Program, a living-learning program that provides students with the opportunity for daily language and cultural immersion in an organized study environment. Due to the COVID-19 pandemic, all Language House activities are being held online this semester. Sneed meets with his Language House Russian cluster online three times a week for activities like cooking, watching Russian television or simply engaging in conversation.
He also meets weekly with a fluent Russian speaker through the Language Partner Program, a one-credit course offered by SLLC that allows language learners at UMD the opportunity to meet with international students to practice in an informal yet structured way.
Last semester Sneed received the newly established Maya Brin Scholarship in Cultural Competency, which awards $5,000 to a student majoring in a STEM field and learning Russian.
This summer, he will intern—for the third time—with the aerospace and defense technology company Northrop Grumman, working in electrical engineering.
In the future, Sneed hopes to pursue a career in the space sector, working at NASA or SpaceX, or in Northrop Grumman's aerospace sector. Given that the U.S. shares the International Space Station with the Russian space agency, Sneed is confident he'll be able to use the skills gained in both his computer engineering major and Russian minor in his future career.
Of course, he also hopes to travel to Russia one day to experience the country up close.
"Learning another language really expands my toolbox as well as makes me more valuable to companies," Sneed said. "And I hope it will allow me to make friends from another culture, too."