March 01, 2021 School of Languages, Literatures, and Cultures | Second Language Acquisition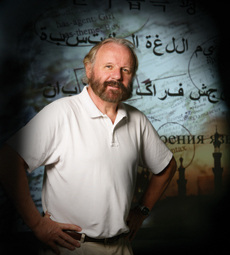 Mike was one of a kind. He was able to leave an imprint in everything and everyone. He was able to change things and change lives. And he changed mine. (Gisela Grañena, SLA Ph.D. graduate)
Mike was one of a kind. He was able to leave an imprint in everything and everyone. He was able to change things and change lives. And he changed mine. (Gisela Grañena, SLA Ph.D. graduate)
***Contributions have been edited for readability and shortened, refer to the attached document if you want to see the full testimonials***
It is with great sadness that we bid farewell to the visionary who founded the Second Language Acquisition program at the University of Maryland: Mike Long. Our beloved professor honored us with his company for 16 years and served the field for countless decades. It is with a heavy heart that our small community shares thoughts and memories about his time with us.
The imprint he left in the field of SLA knows no bounds. Kira Gor, the SLA program director, provides some numbers: "He was the most influential scholar in the field of SLA in the surveyed decade of 1997-2007, and the most cited scholar in SLA in previous years, with 57,375 citations by last year. He delivered keynote and plenary addresses at 80 major national and international conferences." And beyond what objective figures of his publications are, Dr. Ross adds "Mike built Maryland's SLA program into one that was ranked among the top ten programs. Maryland's SLA success has, with little exaggeration, been built on the shoulders of this SLA giant. Scholars like Mike Long come once in a generation. Many core areas of SLA research will be seen as originating from Mike Long's decades of research." His former student, Matt Coss, recalls how "He could cite the references down to the journal issue with perfect accuracy" and how "We at Maryland were so lucky to have had the Mike Long right here with us day in and day out."
His work went beyond print. Humanities are sometimes looked down upon, often believed to have no real-world impact. Nonetheless, our alumna Gisela Grañena reminisces about "his activism and how he involved us in projects such as the CASA de Maryland to help the Latino community in Silver Spring developing a TBLT program tailored to immigrants' needs. The weekly meetings at CASA de Maryland were taking place late in the evening after a long working day for all of us, but Mike would never miss a single one." This activism of his showed the usefulness and application of one of his main contributions to the field, Task-Based Language Teaching, which has driven many students to join the program. "I was over the moon when I signed for Dr. Long's TBLT class, and I bragged about this to all my friends and my mom. I think my family started to realize how exceptional my PhD program was only after reading about Mike on the Russian Wikipedia page," recalls our current student Tetiana Tytko. Not only did this approach bring students about and contribute to the community, but applying Mike's methodology "could bring about a greater feeling of fulfillment," says Kichan Park, one of our students. His influence will remain, as Yoko Eshita explains "Dr. Long's Task-Based Language Teaching class was the most influential course for my career, and I carry his methodology in my teaching". And it surely will continue to bring us joy. Many colleagues and students cannot help but feel grateful for having known him; as SoHye Park puts it "I'm very grateful that I had the opportunity to know and learn from Dr. Long, and I will forever remember the lessons he taught us."
Unsurprisingly, his lessons transcended SLA. His deep appreciation for life and family bonds showed in the pride he had for his family, "During the break of a class, Mike showed a video of Jordi playing soccer on the projector. He then sat in the back and watched it with a smile on his face. I saw so much love and pride in Mike's eyes when he talked about Jordi. It was the first time I saw Mike not as a world-renowned scholar, but as a loving and proud father.", remembers Zhiyuan Deng (Dingo), SLA Ph.D. student. "He taught us that we don't have to sacrifice our future family, social connections, or hobbies to be successful in what we are doing", relates Tetiana Tytko, SLA PhD student. His way of living life set a remarkable example for his students; as Fátima Montero puts it: "I just know one thing for sure, my dear Mike, I just want to be like you, whenever I grow up." And who wouldn't want to echo the wish of reaching Mike Long's example?
He showed responsibility towards his students, "He was the one who taught me about responsibility as a scholar and a mentor. When I was working on my first QP, we were talking about how the design of the experiment may have led to unexpected findings. He said to me, "I take full responsibility for this, because I was the PI." I had never heard any other professor say anything close to that to me before, and since then, I have vowed to become a mentor like him to my students," shares Jiyong Lee, SLA PhD graduate.
His openness was remarkable, inviting his students over, which to some "was my dream-come-true moment!", as Yuichi Suzuki recalls. Lindsay Yotsukura, Professor of Japanese, "will always fondly remember the convivial end-of-semester events which Mike hosted for the SLLC at his home and in the multi-purpose room of St. Mary's Hall, replete with wine and a jazz band."
The knowledge he had of the world knew no bounds. SLA was too small a field to keep a mind like his satisfied, a mind forever longing to learn. Mireia Toda Cosi relates "What an odd British man: an SLA giant was educating me about my country's history while wearing Barça regalia! He was a bottomless pit of knowledge". And Professor Emerita of Portuguese Regina Ingel reminisces about the times when "He used to come to my office to talk about soccer, something that I like and he used to adore."
His brilliance as a researcher was, to say the least, comparable to his excellence as a person. His modesty, his appreciation for life, his humor, humanity, and wit, have left a mark among his students and colleagues as these thoughts picture:
He had a brilliant way of talking about everything that mattered to him and a unique talent for appreciating life. And above all, a lot of generosity, in spirit and in action. Mike combined intellectual rigor with extreme modesty. (Kira Gor, SLA program director)
He had a brilliant mind and a gentle heart. I will miss his sharp sense of humor and wit! (Yana Bodrykh Carver, MA graduate)
On the third floor of Jiménez Hall there was a place that felt like home. It was Mike's office, a room for all. Surrounded by hundreds of books and journals and presided by Barça's flag. There was always a lesson you could learn from Mike, from SLA to soccer, from politics to art. His wisdom was immense and so was his heart. (Fátima Montero, SLA PhD candidate)
I have met many professors, but it is very difficult to find somebody like Mike who was not only knowledgeable in the field and related fields, but also such an insightful and humane person. (Kyoko Hillman, SLA PhD graduate)
Mike was the one who could put you at ease with his jokes and anecdotes and especially with his sincere interest about you. (Tetiana Tytko, SLA PhD student)
I am shocked and saddened by the loss of this great colleague, and will miss his kindness, his sense of humour, as well as the stimulating conversations we had throughout the years. (Herve T. Campangne, Professor of French and Cultural History at UMD)
I was touched by his straightforward style of communication and willingness to help. (Minglang Zhou, Professor of Chinese at UMD)
Please, share your memories of Mike here and in the site that Marta González-Lloret has created: https://iatblt.wixsite.com/mikelong
And see the fond memories of Mike posted on the LSC page as well: https://languagescience.umd.edu/news/remembering-mike-long

You can access Mike Long's CV by following this link.