Germanic Studies Awardees, Spring 2019
April 30, 2019 School of Languages, Literatures, and Cultures | German Studies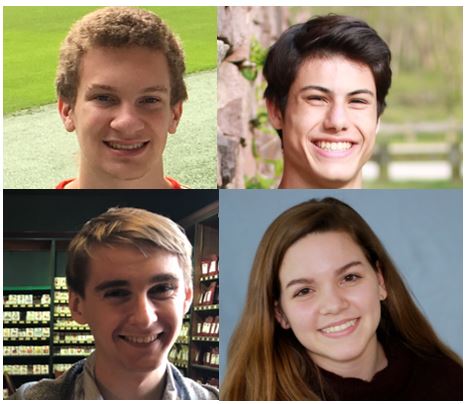 Congratulations to our German Majors!
Congratulations to Alexander Berardo, Ryan O'Connor and Ryan Sutton on receiving the German Society of Maryland Merit Award this year! The purpose of the German Society of Maryland is to preserve and promote the German heritage, language and traditions through educational, social, and benevolent programs and to develop the unity and continuity of the German American community in the State of Maryland. This program provides up to 3 awards of $1,000.00 each to outstanding students at Maryland colleges and universities who have declared a German major All of the three awards went to our German double-majors!
Alexander Berardo and Ryan O'Connor are also the recipients of The Anneliese and Alfred Strauch Scholarship for Language Study! This Scholarship was established in 2003 by the Department of Germanic Studies associate professor emerita Dr. Gabriele Strauch, in memory of her parents. Each spring semester, the Scholarship recognizes the outstanding efforts of two German Majors, Double-Degree, and Double-Majors, who hold Junior standing at the University of Maryland.
Alexander Berardo is an Electrical Engineering and German double major. Alex is interested in working with computers, renewable energy, and learning languages. He spent a part of the 2018 summer in Tübingen, Germany and will be returning to Germany this summer to intern with the FEV, designing batteries for electric cars. 
Ryan O'Connor is a Junior at the University of Maryland. Hailing from Baltimore, Maryland, Ryan is currently pursuing a double degree in International Relations and Germanic Studies at the university, with a minor in History. He is using his International Relations major to pursue an added interest in global environmental politics and is tailoring a bachelor's thesis around this topic. Following graduation, Ryan hopes to have the opportunity to work abroad, and plans to seek employment with the United Nations, European Union, and in the broader field of environmental politics and policy.
Ryan Sutton of Ellicott City, MD is pursuing a double major in Computer Science and German. He plans to study abroad in Munich, Germany in spring 2019. After graduating from UMD, he hopes to attend graduate school and plans to apply for the Fulbright scholarship to fulfill his dream of working and studying in Germany.
We are also pleased to announce that Agnieszka Bieganowska has received the Delta Phi Alpha Fall/Winter Study Abroad Scholarship ($500). This scholarship supports Delta Phi Alpha Members who are planning to study abroad on an accredited program in a German-speaking country with a start date in the second half of the calendar year.
Agnieszka Bieganowska is a Junior German and Russian double major. Having grown up speaking Polish at home, Agnieszka has always had an interest in foreign languages and decided to pursue this passion more in college. She will be studying abroad for the duration of the Fall semester with the Maryland-in-Berlin program at the Freie Universität in Berlin. Upon returning from her travels abroad, Agnieszka will also be applying to the Fulbright program to teach English in Germany as a teaching assistant after undergrad. In the future, she plans to pursue a Master's degree in education to teach in secondary schools and to share her love of foreign languages.
We are very proud of our Ryans, Alexander, and Agnes and their outstanding accomplishments and wish them the very best in their future pursuits!