Thomas Kang Lecture: The Olympics in East Asia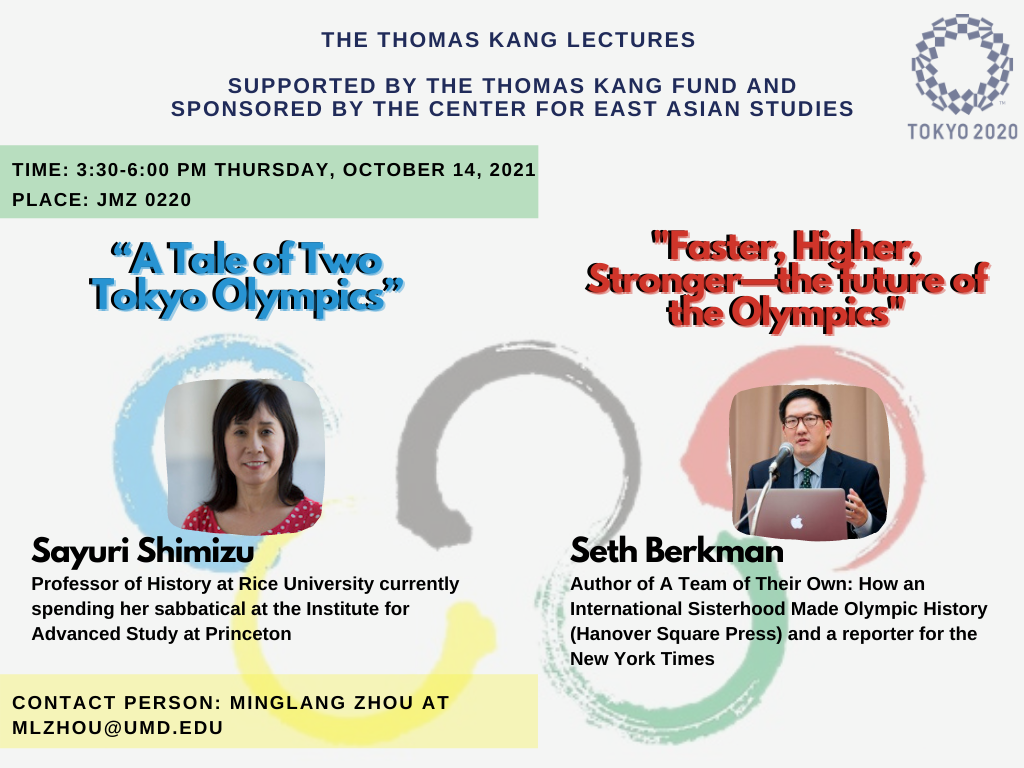 Thomas Kang Lecture: The Olympics in East Asia
Center for East Asian Studies | School of Languages, Literatures, and Cultures
Thursday, October 14, 2021 3:30 pm-6:00 pm
Jimenez Hall, 0220
A Tale of Two Tokyo Olympics
Tokyo has played host to the Olympic Games twice (1964 and 2021). This talk highlights these two Olympics and places them in the trajectory of post-WW II Japanese history. What motivated the city to seek the opportunity to host the games? How did the games change the city's landscape? What are the legacies of the historical experience for the people in Tokyo and Japan?
Sayuri Guthrie Shimizu is Dunlevie Family Professor of History at Rice University. Her area of research is the history of US-Asian Relations, the history of global sports and transnational environmental history. She is currently spending her sabbatical at the Institute for Advanced Study at Princeton.

Faster, Higher, Stronger—the future of the Olympics
Berkman will be discussing the 2020 Tokyo Olympics, and their impact on future international sporting events. The 2020 Olympics (delayed to 2021 due to the coronavirus pandemic), highlighted how politics, economics, race and mental health are undoubtedly intertwined in sport. Berkman, who recently covered the 2018 PyeongChang Winter Olympics and the attempts during those Games to fortify Korean unification, will relate relevant moments from previous Olympics, and offer insight on how the perception of other large-scale sporting events may change going forward.
Seth Berkman was born in Seoul and raised in Lakewood, New Jersey, Seth Berkman the author of A Team of Their Own: How an International Sisterhood Made Olympic History (Hanover Square Press). The book chronicles Korea's first women's Olympic hockey team, whom he met while on assignment for the New York Times, where he has been a regular contributor since 2012. He currently lives in New York.
The Thomas Kang Lectures are supported by the Thomas Kang Fund and Sponsored by the Center for East Asian Studies