Roshan Documentary Series - Dingomaro: Iran's Black South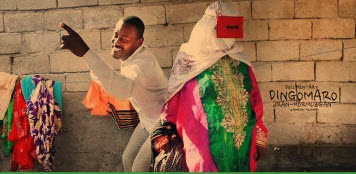 Roshan Documentary Series - Dingomaro: Iran's Black South
School of Languages, Literatures, and Cultures | Persian
Saturday, February 6, 2021 2:00 pm-4:00 pm
Online
As part of the Roshan Documentary Series, join us on Saturday, Feb. 6th at 2pm ET for a screening of the documentary "Dingomaro: Iran's Black South" to celebrate Black History Month. The viewing will be followed by a Q&A session with director Kamran Heidari.
Since his Internet hit Bad Shans (hard luck), Hamid Said has become one of the most famous black musicians in Iran. He's travelling by motorbike across the province of Hormozgan, which is situated in the South of the country on the Persian Gulf, in order to realise his dream - he wants to organise a concert with the best black musicians in the country. Filmmaker Kamran Heidari accompanies Hamid Said as he attempts to make his dream come true.
The virtual screening and the Q&A with director Kamran Heidari is organized by Roshan Institute for Persian Studies and will be moderated by Dr. Marjan Moosavi.