Food Odysseys: Tastes, Techniques, and Terroirs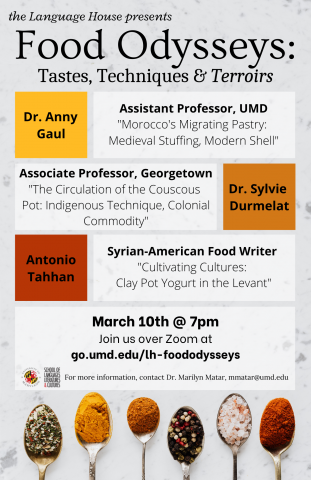 Food Odysseys: Tastes, Techniques, and Terroirs
School of Languages, Literatures, and Cultures | Language House
Wednesday, March 10, 2021 7:00 pm-8:00 pm
Online - Zoom
Food Odysseys: Tastes, Techniques, and Terroirs
"Morocco's migrating Pastry: Medieval Stuffing, Modern Shell" Dr. Anny Gaul, UMD
"The Circulation of the Couscous Pot: Indigenous Technique, Colonial Commodity" Dr. Sylvie Durmelat, Georgetown University.
"Cultivating Cultures: Clay Pot Yogurt in the Levant" Antonio Tahhan, Syrian American Food Writer.
For more about this event, visit the Student Story featured in Stories Beneath the Shell.
Event organized by Dr. Marilyn Matar